Earlier, I mentioned a 1989 interview in which Zappa described a performance by John Cage:
A short time after that, John Cage came to Claremont College and he was giving one of his … he does these performances with a throat microphone. He'd put this thing on his throat and drink a quart of carrot juice, or read something to you while he was drinking the carrot juice. [1]
I suggested that Zappa was referring to a concert he attended at Bridges Hall at Pomona College (in Claremont, CA) on March 7, 1962 in which Cage and David Tudor performed Where Are We Going? And What Are We Doing? and Variations II. Neither of these pieces fits the carrot-juice description, so I thought I'd look into it a little more.
It seems that the piece to which Zappa refers is Cage's 0'00". This highly conceptual composition (if we may call it that) consists primarily of a single sentence with several additional clarifications:
IN A SITUATION PROVIDED WITH MAXIMUM AMPLIFICATION (NO FEEDBACK), PERFORM A DISCIPLINED ACTION.

WITH ANY INTERRUPTIONS.

FULFILLING IN WHOLE OR PART AN OBLIGATION TO OTHERS.

NO TWO PERFORMANCES TO BE OF THE SAME ACTION, NOR MAY THAT ACTION BE THE PERFORMANCE OF A "MUSICAL" COMPOSITION.

NO ATTENTION TO BE GIVEN THE SITUATION (ELECTRONIC, MUSICAL, THEATRICAL).

10-25-62

THE FIRST PERFROMANCE WAS THE WRITING OF THIS MANUSCRIPT (FIRST MARGINATION ONLY). [2]
Since the piece wasn't written until October of 1962, it seems unlikely that Cage performed 0'00" at the concert in Claremont. As it turns out, one Ellsworth Snyder's description of a 1965 performance of 0'00" at the Harper Theater in Chicago seems to fit the bill perfectly:
Cage had vegetables which he cut up, the sounds made audible with contact microphones. He then put the cut-up vegetables into a blender, made juice, and then drank the juice, the drinking sounds amplified by a throat microphone. Snyder also recalls that Cage lit a cigarette and smoked a bit. He characterizes the performance as "gracious – it wasn't abrupt or elongated to be melodramatic." [3]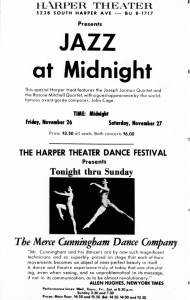 One of two midnight shows on November 26 and 27, 1965, the concert was a collaboration with members of the Association for the Advancement of Creative Musicians (AACM), featuring appearances of the Joseph Jarman Quintet and the Roscoe Mitchell Quartet. (Tickets were only $3.50!) To the right is an ad that ran in the local paper, The Hyde Park Herald, on November 24, 1965. [4]
I think it pretty unlikely that Zappa was in attendance at the concert himself. He would have been too busy in L.A. with various early incarnations of The Mothers during the second half of 1965. How he would have heard of the Cage performance, then, remains something of a mystery. There was a review of the concert in Down Beat [5] which I haven't yet had a chance to check out. I'll report back when I do. If the article mentions carrot juice, I think we'll have a winner! Until then…
UPDATE (December 11, 2009):
Reading through old issues of the Los Angeles Free Press, I discovered another potential source for Zappa's recollection. Click here to read all about it!

References

:
[1] Den Simms, "An Evening With Pierre Boulez and Frank Zappa," T'Mershi Duween, no. 9 (October 1989). (Text here.)
[2] John Cage, 0'00" (New York: Henmar Press In., 1962). (Facsimile here.)
[3] William Fetterman, John Cage's Theatre Pieces: Notations and Performances (Amsterdam: Harwood Academic Publishers, 1996), 88.
[4] The Hyde Park Herald, Volume 84, November 24, 1965, p. 16 (column 2). (Archives here.)
[5] Pete Welding, "Caught in the Act: Joseph Jarman-John Cage," Down Beat
33.1 (January 13, 1966), 35-36.