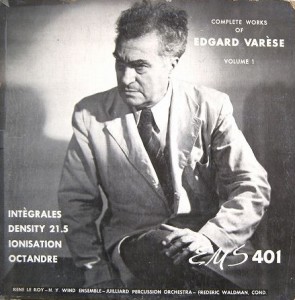 The image to the right depicts the cover of the Complete Works of Edgard Varèse, Volume 1. According to Zappa, this was the first record he ever owned. (And one that changed everything for him!)
The story of how he came to discover the record was well-rehearsed. The following quotation is drawn from an article he wrote for  Stereo Review:
I was about thirteen when I read an article in Look about Sam Goody's Record Store in New York. My memory is not too clear on the details, but I recall it was praising the store's exceptional record merchandising ability. One example of brilliant salesmanship described how, through some mysterious trickery, the store actually managed to sell an album called "Ionization" (the real name of the album was "The Complete Works of Edgard Varèse, Volume One"). The article described the record as a weird jumble of drums and other unpleasant sounds. I dashed off to my local record store and asked for it. Nobody ever heard of it. I told the guy in the store what it was like. He turned away, repulsed, and mumbled solemnly, "I probably wouldn't stock it anyway … nobody here in San Diego would buy it." I didn't give up. I was so hot to get that record I couldn't even believe it. [1]