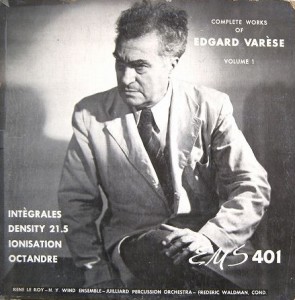 The image to the right depicts the cover of the Complete Works of Edgard Varèse, Volume 1. According to Zappa, this was the first record he ever owned. (And one that changed everything for him!)
The story of how he came to discover the record was well-rehearsed. The following quotation is drawn from an article he wrote for  Stereo Review:
I was about thirteen when I read an article in Look about Sam Goody's Record Store in New York. My memory is not too clear on the details, but I recall it was praising the store's exceptional record merchandising ability. One example of brilliant salesmanship described how, through some mysterious trickery, the store actually managed to sell an album called "Ionization" (the real name of the album was "The Complete Works of Edgard Varèse, Volume One"). The article described the record as a weird jumble of drums and other unpleasant sounds. I dashed off to my local record store and asked for it. Nobody ever heard of it. I told the guy in the store what it was like. He turned away, repulsed, and mumbled solemnly, "I probably wouldn't stock it anyway … nobody here in San Diego would buy it." I didn't give up. I was so hot to get that record I couldn't even believe it. [1]
A number of other sources provide a similar account. Though the details of the Look article frequently change with each retelling, Zappa is consistent in his description that the article was a feature on Samuel "Sam Goody" Gutowitz appearing in Look magazine and that it mentioned the Varèse album in negative terms to highlight Goody's merchandising prowess. Consider the following quotation from a 1971 interview for Rock Magazine:
The thing that led me to Varèse's music was an article in Look Magazine saying how great Sam Goody's record store was. Sam Goody sells records so well that he can even sell a record called Ionizations – they even called the album wrong – it was The Complete Works of Edgar Varèse, Volume I. And they were telling how ugly this record sounded. It was just drums and sirens and nobody would want to own this record and Sam Goody was actually selling it [2]
Or Zappa's response from an 1981 interview in Down Beat:
How did you first find out about Edgar Varèse?

That's a very simple story. I read an article in Look magazine in the early '50s which was a feature saying what a great guy Sam Goody was because he was such an exciting merchandiser and he could sell anything, he could sell any kind of record. And to give an example of what a great merchandiser he was, it said that he was even able to sell an album called "Ionisation" which had a bunch of drums banging, and it described the album in very negative terms. When I read that, I thought it sounded exactly like the kind of album that I wanted to hear because I had been playing drums since I was 12. So I went looking for the album and I finally found it after a couple of months' search, and I took it home, put it on, and I loved it as soon as I heard it. [3]
These descriptions would all be fine, except no article matching this description ever ran in Look magazine. Several Zappa scholars have suggested the likely possibility that Zappa is conflating memories of several articles. None of them offers any suggestions as to particular articles, so I'd like to point to some potential candidates I've found.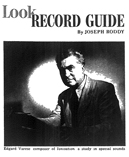 To begin with, the November 7, 1950 issue of Look does include a brief (and surprisingly positive) review of the record, but makes no mention of Gutowitz:
The good-things-from-obscure-places department has come up with the following finds. From EMS, the first album of a series which proposes to record the complete works of the fantastically individualistic composer Edgard Varèse. Density 21.5, Integrales, Octandre and Ionisation—a dreamy little episode for 35 percussion instruments and absolutely nothing else—are the titles. Varèse is unlike anything else in music, and well worth knowing. The recording is excellent… [4]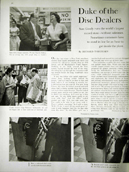 Although the album is reviewed favorably here, the description of the percussion does line up with Zappa's memory.
Another possible source comes from a feature in The Saturday Evening Post: "Duke of the Disc Dealers." (The image to the right links to a PDF of the article.)
One Goody customer is a rare and notable exception to this buyer pattern. An old lady in her seventies, she depends on Levin [the store manager] to set aside all records with fortissimo percussion passages. 'She loves drums, gongs, cymbals and anything that makes a loud banging noise. She has excellent hearing and is not interested in volume, as such. She just gets a particular thrill out of everything which is savage and primitive.' [5]
This article, however, makes no mention of Varèse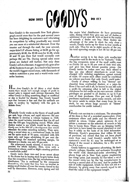 Greg Russo has pointed out that the February 13, 1952 issue of People Today mentions Goody's skills as a record salesman. [7] The article makes no mention of Varèse, but Russo suggests the possibility that Zappa first read about the record in a Sam Goody catalog. Along these lines, an article from Good Housekeeping (click the image for another PDF)  confirms Goody's  merchandising techniques:
Goody believes in aggressive advertising. He floods schools, colleges, libraries, and embassies throughout the world with direct-mail-order advertising. [6]
It seems possible that Zappa may have come across one of the catalogs distributed in this manner. (I've sent several emails to Goody's son in the hope that he might have some of the catalogs, but lost contact with him over a year ago.)
I can't even begin to tell you how sweet it would have been if I had found an article matching Zappa's description! (Even if it wasn't in Look magazine.) Unfortunately, it seems that for now at least the mystery remains.
References

:
[1] Frank Zappa, "Edgard Varèse: Idol of my Youth," Stereo Review 26, no. 6 (June 1971): 62. (Text here.)
[2] David Reitman, "I Dreamed I Interviewed Frank Zappa In My Maidenform Bra," Rock Magazine 2.13 (January 25, 1971): 31. (Text here.)
[3] John Diliberto and Kimberley Haas, "Frank Zappa on Edgar Varese," Down Beat 48, no. 11 (November 1981): 22. (Text here.)
[4] Joseph Roddy, "Look Record Guide," Look Magazine 14 (November 7, 1950): 111.
[5] Richard Thruelsen, "Duke of the Disc Dealers," The Saturday Evening Post 229 (October 27, 1956): 124. (PDF here.)
[6] "How Does Goody's Do It?," Good Housekeeping 143 (September 1956): 56. (PDF here.)
[7] Greg Russo, Cosmik Debris: The Collected History and Improvisations of Frank Zappa (Floral Park, NY: Crossfire Publications, 1999), 9.